Learn The Powerful, Proven, 60 Second Techniques' I've Used To Make My Clients Millions In Radio
(Yes, they work great for :30s)
I guarantee you'll earn ten times what you pay, or I'll buy the 60-Second Copywriter™ back from you.
My name is Jeffrey Hedquist.

Do you run smack up against writer's block just when you need a flow of ideas? Are you tired of clients not renewing because their commercials weren't compelling enough? Are you frustrated spending hours that you should be selling trying to come up with scripts that'll break through the clutter only to finally settle for mediocre results?

I believe I can help you.

I think it's important that I be crystal clear and explain why:
I'm not a theorist - The radio spots I have written have won over 700 awards from all over the world.
That alone means nothing. But … all those award winners have delivered strong bottom-line results for the advertisers. That's what really matters.
I've worked with clients, agencies, producers and broadcasters in 44 states and a couple of countries for decades.
My hundreds of seminars and workshops for advertisers and broadcasters have drawn rave reviews.
My articles are featured in Radio World, Radio Ink, Radio And Production, Radio & Records, Small Market Radio Newsletter, and All About Country.
My newsletter "Radio Hed Lines" is subscribed to by over 7,000 people
I consult for some of the most successful broadcast groups and advertising agencies in the world.
It's not because I'm a genius.

It's not because I was born with some kind of magical gift for radio.

It's because, over the years I've collected, borrowed and adapted a toolbox full of simple, but powerful, techniques that worked like crazy in small, medium and large markets. Across the country. In all formats. For advertisers in all kinds of businesses.

They had to: my clients were so diverse I couldn't afford to focus on tools that only worked in one size market, one geographic area, one format or in one type of business (though I learned plenty of those too).

You see, I've been in the advertising business for over 30 years and I've worked closely with thousands of clients, agencies, producers and broadcasters. I've learned first hand what works and what doesn't. I know what you're up against, because I've been there.

Does this sound like your story? 
The reason I can offer you such a strong guarantee (a
ten times
ROI) is because I know that if you apply what you learn from this CD and workbook you'll be laughing all the way to the bank.
"I got the job!"
"I purchased the 60-second copywriter back in April. Truthfully, it languished in its case -- until last week when I had the opportunity to bid on a series of radio spots for a pet supply chain.

Well I popped it out of its case and spent an hour listening and jotting ideas as they related to the project. I came up with three unique scripts and sent them off. I got the job! In fact, they are going to build an entire campaign around one of my ideas."


- Pamela Patton, Paragraph Writing Services, Grand Rapids, MI
Will the 60-Second Copywriter™ work for you?
I know you're busy.

You may not have time or money to come to one of my longer more expensive seminars. You need results now. Your clients expect them. Your sales manager expects you to be a rainmaker and a creative genius. You want to make more money without giving up sleep.

So I spent 5 months distilling the best of what I know into an hour long CD you can listen to on your way to work. I think you'll find you will pull new things out of it each time you listen.

If you use the interactive workbook, which you can download, and use as a template for each of your clients, you'll reinforce what you've learned and your skills will improve exponentially.
I use this handy CD to spawn ideas. I've had quite a few successes because of it. I never tried writing to music before…it's really fun and liberating!
- Kathryn O'Connell, KMTX Radio, Helena, MT
Here's what you get in your 60-Second Copywriter™ audio CD and downloadable interactive workbook: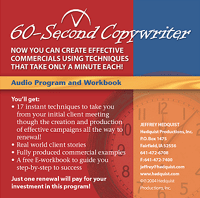 "Your 60-Second Copywriter is wonderful! I have used it and come up with some really neat spots for clients. I have developed some campaigns and have used the simple principles to develop my skills as a copywriter. Unfortunately I did lend the CD to a client and have never seen it again! (Now he writes his own copy…hmmmm) Thanks!"
- Diane M. Williams, Senior Account Executive, Clear Channel Radio, Springfield, IL
A way to thrill your advertisers with the results of this little-used secret I learned from two of my most successful clients for getting and keeping the attention of your listener.
The EXACT "right questions" you need to ask to create instant and irresistible audience empathy.
The application of one of the most dramatic visualization experiments in history that'll get listeners to emotionally "test drive" the advertiser's product or service.
The secret to indelibly branding the advertiser (even with promotional, event and sale spots) that most clients are too scared to try.
The reason the typical CNA (Client Needs Analysis) always fails to give you what you need to create an effective commercial. Why an ANA (Audience Needs Analysis) can help you make a powerful client-listener connection.
Two simple questions you can use to quickly unearth the hidden core benefits of any product or service. This technique works every time to distill the benefits from the features and has made my clients a fortune over the years.
Condense! Simplify! Focus! - You'll learn why concentrated single messages are far more powerful than complex messages and how you can "distill" the powerful essence of every commercial you create.
A powerful technique to break writer's block that could turn you into an ad writing machine.
A unique take on "brainstorming" that not 1 in 1000 people understand (it could take your creativity to a profitable new level).
A great writing technique I borrowed from the world of improv that'll yield dozens of commercial ideas.
A way to use mind reading on the radio to capture your audience's attention.
Perhaps the most powerful writers' block-buster that has ever been devised - using the power of music to generate campaign after campaign.
A tool you can find in any drugstore (and stick in your shirt pocket) that can virtually guarantee you'll never, ever run out of new ideas for commercials.
How to ethically and empathically (but ruthlessly) exploit the chink in your client's armor to pull in your listeners.
A bizarre way to use sound effects (most never think of it) that will reward you with breakthrough copy.
A simple, life-saving 5-second test you can apply before your commercial hits the air that can massively increase response.
The secret tactic I learned over the years, which may be the ONLY way to get your client to commit to better commercials.
I purchased your CD "60 sec copywriter" and loved it! I had all our whole team listen to it… great feedback! Jump-started our creativity!
- Marc Rasmussen, Vision Video, Sioux Falls, SD

The Bottom Line:
I won't be satisfied unless you are more than satisfied.
So here's my unequivocal, no funny business, hassle-free guarantee: Get the 60-Second Copywriter™ CD and workbook and put it through its paces. Use every strategy and technique as many times as you'd like.
You be the judge
. If this program doesn't deliver
10 times
what you've paid for it - in cold, hard dollars - I would ask that you return it and I'll immediately refund your entire investment and even reimburse your shipping costs.
REMEMBER:
I can make this ironclad guarantee because
I've personally profited from many of these strategies and techniques, as have hundreds of others
. So I have complete confidence that you're going to benefit from it many times over.

Jeffrey Hedquist
President
Hedquist Productions, Inc.
P.O. Box 1475, Fairfield, IA 52556 641-472-6708 jeffrey@hedquist.com
For a FREE newsletter with tips, techniques & secrets go to www.hedquist.com